Hello Gorgeous!
Welcometo my review of mouth-watering OPI DS Signature.
This polish began my love affair for OPI Designer Series polishes.
I am showing this with the plum I was eating from our tree. I literally could not believe the flavors from this fruit. It had so much flavor that it surprised me. I felt that the flavors from the plum were a good match for my polish, DS Signature is so crazy amazing and juicy! If you look at the edges of the nail you can see they are almost the same color as my plum.
This is making my mouth water all over again. I am glad there are more plums ripening on the table and tree today.
DS Signature is now, sadly, a discontinued polish.
DS Signature is a medium rosy pink holo, and as I have found with all OPI polishes,with extremely high quality in the brush and formula. These polishes command a higher price than the regular OPIs. They retailed for $12.50 when I purchased mine. The holo in this is linear and strong.
The formula is gorgeous to apply, easily controlled with the precision brush. Three thin coats gives full coverage, and topcoat is not needed here because the polish dries shiny and HARD and fast, just like you want it to. The first time I used one of these I was really amazed at how I could finish painting all ten nails, then almost immediately begin to apply my second coat.
I put this away after using it two years ago, and pulled it out again to play for old times sake. I think the only downside of this polish is the conservative color you see most of the time in the shade or indoor lighting. If it was a more vibrant base shade I would love this even more.
If you found this one in a dusty, that would be full of WIN! This is the type of polish I look for when I dusty hunt. OPI DS FtW.
On another topic, I took the kind hearted blogger pledge today. I found this on someone's blog and it led me to the originator, here:
http://emjayandme.blogspot.com/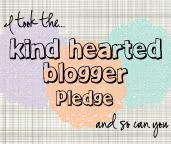 AS A KIND-HEARTED BLOGGER I PLEDGE TO:
•create, inspire, and admire rather than compete with fellow bloggers
•be understanding of each other-- in the blogging community, as well as in the world
•stay away from internet/blogging bullying
•speak my opinion freely, while still being mindful of other's feelings-- be tactful.
•make an effort--no matter how big or small the gesture, to spread kindness or joy to others
•acknowledge that I will make mistakes, (I am only human) but remember to learn from them
•know that at times I will post about the negative stuff in life, and maybe even some complaining (I am only human) but I will always follow up with something happy/positive too.
•believe that this world is a good place, filled with good people.
Have a wondrous day!