Hello there my polish loving friend.
Today I have an update for you of the recent entries to my ongoing Scariest Bottle of Nail Polish in the USA (tm) competition.
1 Here is my very first contender! Now here is a truly frightening nail enamel brought to us courtesy of the wonderful Kelly at
Kell's DIY Nails
. Kelly does her nails herself, but you have to wonder whether she ever would reach for this one. First up here we have a gorgeous "duochrome" which violently assaults the eyes in a gorgeous robin's egg blue and the most hideous shade of vomitous and vile spaghetti sauce grease.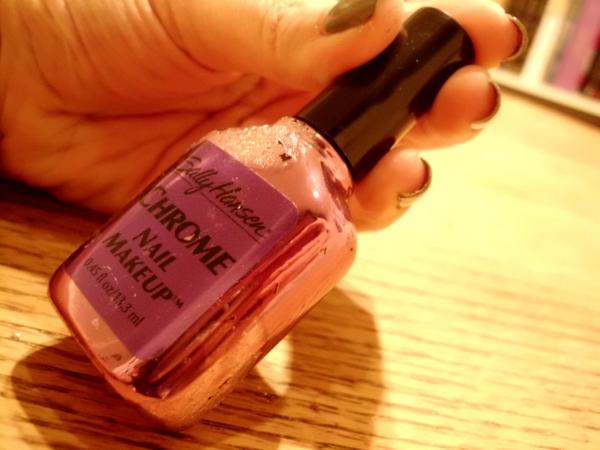 2. Morgan Newman of
Luv My Nails
has gifted us with this eye candy from her collection. I am not sure what happened here, but it does appear that there is an apparition on the upper part of the bottle, and I am not sure I would be comfortable picking that one up without a closer look.
Click to see Mary's entry!
3.
Mary Westmoreland
has been kind enough to share with us her disgustingly frightening nail polish shade. There are no words, I think you can use your imagination to decide what this looks like. Bleeeccchhh! Click her name to see this treasure.
4.
This is one of my personal bottles. I won this in a 30 bottle online give away, it is not a shade I would have picked myself, too blatantly bloody! Kell's bottle #1 above, is also a Maybelline Express finish. I told her that I would upload mine, so here you go Kelly! This is an example only, it is not part of the competition. This beautiful shade is called "Crimson".
5.
Angela S.
kindly shares this repellent example. Can you imagine wanting to pick it up and use it? What is that on the side? I am sorry Angela S. no offense intended, but this is a great entry!
6. Check out this one from
Taryn
of the blog
Taryn Rose
. It looks like life may be forming down in the coagulated lump, I am looking here for eyeballs. Well entered Taryn!
I want to take one moment to say a great big THANK YOU to the entrants above, you have made me feel so much better by relieving me of the burden of having the scariest bottle, and looking like a fool for putting this contest out there like a big old matzoh ball! You guys are really good sports for showing us some bottles that are not your prettiest, and you are all great contenders for the prizes~
So THANK YOU AGAIN SO MUCH XOXOXO
Good luck everyone! If you have a bottle which you think would belong in this gallery, please add it and enter in my contest
here
.
And, the exciting news I have for you today is that I am going to add
A POLISH A DAY TO THE JACKPOT!!!
from now on until the end of the entry period. I will alternate adding the prizes to the grand and alternate (random) winners. Remember, you can still win a great prize even if you do not have the scariest bottle!
There will be two prizes the Grand Prize will have a total of 11, and the randomly drawn prize will have a total of 9.
TWENTY OF MY POLISHES - UP FOR GRABS!
These are all brand new polishes, some limited edition!
GRAND PRIZE, now with added China Glaze On Safari Exotic Encounters Flavor!
ALTERNATE PRIZE!
Today I am adding a fabulous Limited Edition China Glaze polish in the shade Exotic Encounters. This polish will be added to the GRAND PRIZE!!
Check with me again tomorrow to see what will be added to the ALTERNATE PRIZE!
And I am right now working on another unbelievably exciting invitation for you nail artists out there! I am nervous about this project, and I really hope you share my excitement for it as well. I wouldn't have the courage to do this but for all the support I get from you, my readers who read my words and comment below. And this of course includes my most favorite reader of all, my amazing husband who has pushed this project over the tipping point.
This project, secret for now, represents a related group of dreams I want to realize. I am going to challenge myself to make my dreams come true, despite my fears of failure and/or success.
I have so many ideas for this blog, I am exploding with them. It is going to take a while for me to write and blog them all, so I plan to keep doing this for a good long while. I can not wait to see where this takes us together.
In addition to this excitement, I received notice that my dear friend at In-The-Red-Nails has presented me with the Laine Award, an award to up and coming bloggers! Thank you for this great honor In-The-Red-Nails. This makes me so happy to know that you think my tiny corner of the polish world is award worthy! I really appreciate this feedback, especially on those days when I unfavorably compare my blog to all of those amazing blogs out here in Nail-blog-land.
hugs and flowers to everyone! : )
lovenailpolish